Posted by: Rachel Little, FEMA Youth Council Member
Along with the advantages of witnessing the changing of New England's beautiful seasons, residents must be ready to face a variety of severe weather conditions. My name is Rachel Little, a member of the FEMA Youth Preparedness Council, and a resident of Massachusetts. My favorite part of living in New England is the variety of activities to do like skiing and snowboarding in the winter, swimming and visiting the beach in the summer and all within just a couple hours of where I live.
While I love to enjoy the great outdoors, nor'easters, blizzards, tornadoes, hurricanes and flash floods are all dangerous hazards New Englanders have faced within the past two years. Preparing for severe weather is critically important when living here. Preparedness is imperative when a storm is approaching, though some don't always know how to prepare for something severe. When I heard about the February blizzard approaching, I knew it was going to be a big one. One measure that our area took to prepare for the blizzard was putting a driving ban after four o'clock on the evening the storm was set to hit. All motor vehicles had to evacuate the roads or face large fines. As far as preparedness goes, I thought this was an extremely brilliant precaution and would keep many people safe. It would also make the job easier for emergency personnel working through the night. The type of snow that a storm brings makes all the difference in the world. If it's light snow, it's easier to deal with, less dangerous, and easier for snow removal. If it's thick, wet, heavy snow, it makes it more difficult for all residents. It's harder to remove, can cause severe damage to personal property and is a nightmare for men and women working for the power company. Thankfully the snow was light, but there was just a lot of it!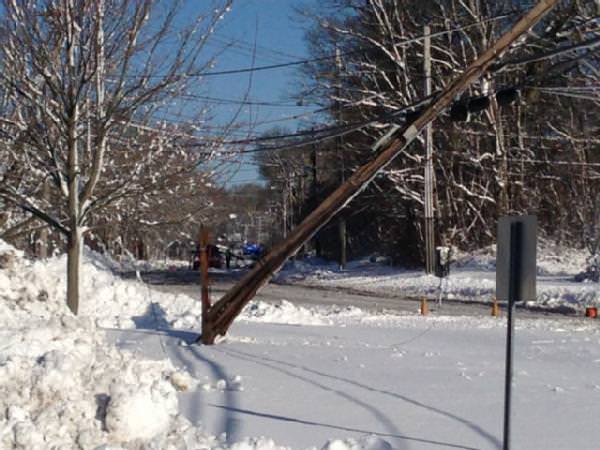 CAPTION: South Kingstown, R.I., Feb. 19, 2013 — Damage in South Kingstown following the Northeastern Blizzard.
This situation was very similar to the October snowstorm in 2011. We knew there was a possibility of snow around Halloween, but it was not forecasted to be as bad as it turned out to be. A major problem with the October 2011 snowstorm were the remaining leaves on the trees, which gave the heavy snow more of an opportunity to break branches and limbs. Trees snapped all through the night and took out power lines, leaving so many without power. My father works for National Grid, and I didn't see him for several weeks after the storm because the power outages were so widespread.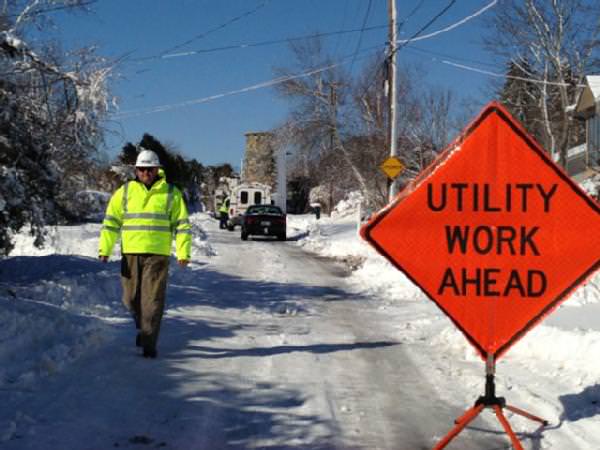 CAPTION: Narragansett, R.I., Feb. 19, 2013 — Utility workers repair downed power lines following the Northeast Blizzard.
By far the most disastrous and destructive disaster to hit our community was the 2011 tornado that cut through Massachusetts. No one ever thought a tornado could possibly make its way to us, as we have large mountains all around us and live in a valley. I think that it is an important fact to be made known across the country, that any place is vulnerable to the attack of a vicious natural disaster at any time.
These experiences have only made disaster preparedness more important to me and make me want to be ready for anything in the years ahead. After our last blizzard in February, I have continued to spread three key factors to being prepared: know your risk, take action, and be an example for your family and community. Taking action is not only readying yourself and family members for a disastrous situation, but spreading the word to your neighborhood and throughout the community. By knowing our risk, we can greatly reduce the amount of fatalities and injuries during a disaster because we took steps to prepare beforehand. I also continue to be a champion of preparedness for all the people I care so much about. I have encouraged my family, school and community to talk about emergency plans and build a preparedness kit before severe weather hits. If we all take part in spreading the word about disaster preparedness and sharing tips, many people will be much safer if they have to go through a severe storm.
Editor's Note: FEMA's Youth Preparedness Council is a unique opportunity for a nominated group of youth leaders to serve on a highly distinguished national council and to voice their opinions, experiences, ideas and solutions to help strengthen the nation's resiliency for all types of disasters.