Posted by: Tony Robinson, Regional Administrator, FEMA Region 6
As you have seen on TV, a tornado leaves behind large amounts of wreckage and debris. Unfortunately, that debris is generally made up of people's homes, community buildings, cars, trees, and all sorts of things that a tornado may destroy with winds that can exceed 200 MPH. In order for disaster survivors to even think about rebuilding their homes or their schools or hospitals the debris needs to be picked up and removed. FEMA and the federal government can assist by helping to pay debris removal costs.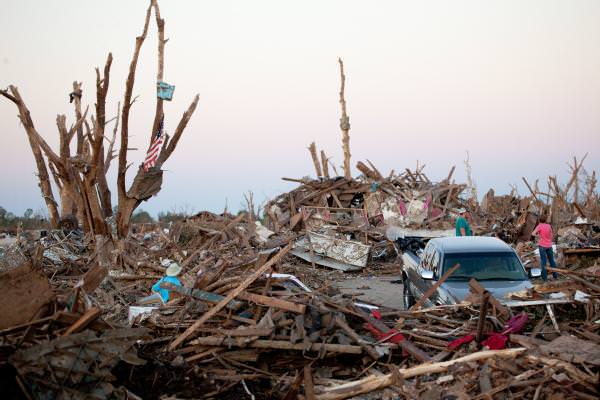 Moore, Okla., May 22, 2013 — Residents look at the place their home stood after a tornado struck the community of Moore, Oklahoma on May 20th. Andrea Booher/FEMA
Local and tribal officials such as mayors, county commissioners, school superintendents, and emergency management officials ultimately make the decisions about how debris gets picked up, where it goes, and who does the work. Generally speaking, they have several options. They can have their own employees do the work, local volunteers and organizations can help, the town could hire a company with heavy equipment, or they could request assistance from the state who can ask the federal government to help if necessary. At this point local officials in Oklahoma are deciding which of these options they will use to go about getting all the debris picked up.
At FEMA, our role is very much a support role by joining the whole community team of local, state and tribal officials, disaster relief organizations, volunteers, and disaster survivors. One of our most valuable contributions to the mission is in the form of funding. As the debris left by the storm is being picked up, FEMA works with the state, local, and tribal officials to provide federal reimbursement for the removal costs. If you're interested in what FEMA can fund, you can look at our Debris Management Guide.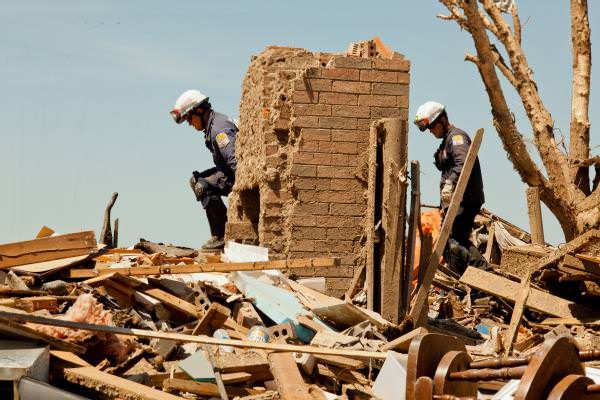 Moore, Okla., May 22, 2013 — FEMA Urban Search and Rescue (Nebraska Task Force 1) team members search house to house for survivors in a tornado devastated neighborhood. Andrea Booher/FEMA
We can also assist the state with technical experts from FEMA or the U.S. Army Corps of Engineers who can offer assistance to local and tribal officials on debris management. The U.S. Environmental Protection Agency may also provide guidance on how to safely handle hazardous waste debris. In Oklahoma, FEMA will be providing additional funding above our normal 75 percent cost share funding for debris that is quickly picked up through a new pilot program. Remember, the quicker the debris is picked up, the faster people can rebuild their homes.
Local and tribal officials may ask disaster survivors to help with debris removal by bringing debris from their property to the curb or by helping to sort the debris into different categories. If you try to move debris please be careful. The Oklahoma Department of Environmental Quality published guidance on debris management for residents, including how to handle chemicals and other hazardous debris.
All of the debris typically doesn't just end up in the landfill. It is often sorted before being picked up or taken to a staging site where it is sorted. Just like taking your garbage out on a normal day, items should be recycled and used again helping the environment and in some cases being sold, such as precious metals like cooper, for money. With FEMA's new pilot program, your local or tribal government may be able to use proceeds they earn from the recycling of debris for other debris removal or emergency management needs.
The removal of debris is a big job, but FEMA remains committed to assisting state, tribal and local officials and helping their communities in the recovery effort. If you would like to join the team and help those who were affected by the Oklahoma tornado, we have some information on our website, or you can visit the Oklahoma Strong webpage.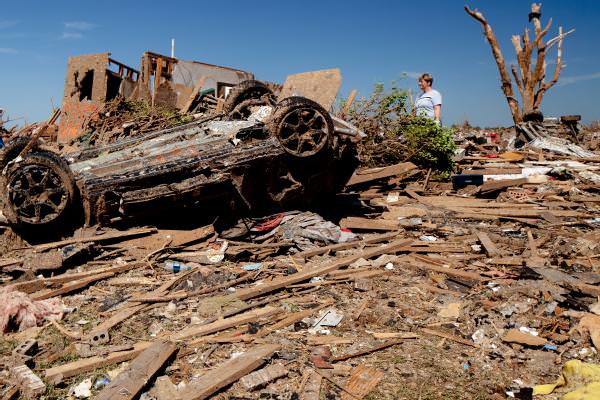 Moore, Okla., May 22, 2013 — Moore resident looks at home destruction caused by an F5 tornado that struck on May 20. Andrea Booher/FEMA